1994
---
A new ECI is launched in PALO ALTO by INTERVAL RESEARCH, Inc.

SERIES: VIRTUAL REALITY SIG Continues. This series has included almost everybody in the field. Except maybe you of course.

"UNCOMMON GROUND," LINK WITH GRAHAMSTOWN SOUTH AFRICA "Uncommon Ground," A film directed by Amie Williams. The producers and directors of the film uncommon ground which included video connections between the students working in South Africa and the parents and friends in LA come back to ECI to connect with the people they met, worked with, and filmed in Grahamstown.

ECI-DENMARK ON THE GOOD SHIP MF KRONBERG This summer before relocating to its permanent home in Copenhagen, a high-tech ECI-Denmark was set up onboard the MF Kronberg. The ship is a sort of Cultural Ambassador traversing the waterways of Eastern Europe and even the Atlantic Ocean promoting the fact that Copenhagen is the elected "Official Cultural City of Europe" in 1996. ECI is a well supported centerpiece and is located in the most forward part of the main deck. Satellite dish and ISDN connections link ECI-Denmark to ECIs and ECI Affiliates around the world. Cultural Events with the ship included:

"Think Globally Laugh Locally," TheaterSport. Around the world there are Theater Sport teams, actors competing in improvisational theater competitions. Improvisers face off to create instantaneous comedy based on audience suggestions. Taking suggestions from the other city's audience, The Los Angeles Theater Sport team in Santa Monica faces off with Copenhagen's team on the ship via the color PictureTel video conferencing

"Kids Across Borders," ECI-DENMARK on board the ship MF KRONBERG ported in REGA , LATVIA. African American kids, ages 7-14 in Santa Monica, meet with kids from Rega, Latvia, the former satellite country of the ex-Soviet Union. Though language was a barrier the kids bridged it through drawings and song (prototype for Distance Learning).

"Cyber Tele-Rave," Party, party, party! Dancing on board ECI-DENMARK on board the ferry MF KRONBERG. D.J.s from NY, SM, and Paris add to the techno music ambiance on the ferry dance floor. Fellow dancers and ravers in Santa Monica and on the ship's dance floor dance with each other in a Giant-Screen Composite-Image Tele-Rave in Cyberspace.

ECI-DENMARK on board the ship MF KRONBERG ported in LISBON, PORTUGAL, this year's designated cultural capital of Europe. During the 18th St. Arts Complex's annual PICO FEST kids and adults at ECI enjoy interacting via PictureTelé with kids and adults from LISBON, PORTUGAL the ECI-Denmark on board the Danish cultural ship.

ECI launches OUTPOST IN CUBA -- VIOLATES EMBARGO: Thanks to the efforts of ECI's CalArt's student, Serafina Milinaire, the outpost in Cuba connected with The International Arts Festival over black and white Panasonic video phones and analog audio lines. The site in Cuba is a small radio station founded by "Che" Guevara. The Cubans showed us art from the Arts Festival show. The high point of the evening was when Cuba's internationally known flutist, Jose­ Luis Corte­s met his friend Pedro Ustache who lives in the USA and teaches flute at the California Institute for the Arts. The two friends had not seen each other in 10 years. Over the black and white video phone and analog audio line, the friend's emotional reunion was expressed in the musical conversation with their flutes.

ECI @ "U to U," Nickelodeon Studios. As part of the "U to U" kids TV show on Nickelodeon, An ECI is one of on-air telecommunications installation that connects kids to kids around the world via color motion PictureTel video. Events produced at ECI @ "U to U," include, tele-video hookup via PictureTel, and Motorola modems facilitate a computer-to-computer link with other ECIs where kids compete, yes compete, in a PC-based Virtual Reality maze game. The head mounted VR helmets by Forte Technologies Inc. created the shared experiences for the participants.

ECI-PALO ALTO shakedown run, established by Interval Research, Inc. A 3-way color motion video PictureTelé connection with Dr. Brenda Laurel from ECI @ PALO ALTO, and the Boston Computer Society Virtual Reality SIG from The Media Lab at MIT. Dr. Laurel talks about VR, the reality of working with the technology, and shows a videotape of the making of her VR installation, PLACEHOLDER, produced at the Banff Center for the Arts in Canada. Prior to this ECI-Santa Monica and ECI-Palo Alto established several link-ups with the "The Electric Carnival" an interactive technologies tent that traveled with the Lollapalooza 94 Music tour.

NEW ECI @ The KITCHEN in NEW YORK CITY. The KITCHEN Center for Video, Music, Dance, Performance , Film and Literature founded 23 years ago by pioneering video artists Woody and Steina Vasulka will be an important participant in the ECI network as the New York City "strong site".

BEFORE AND AFTER AMBIENT: An Inaugural Event of the NEW ECI @ The Kitchen in New York. Weekend festival of ambient music featuring live color PictureTelé video links between the ECI in Santa Monica and the new ECI @ The Kitchen in New York City, continues. In Santa Monica, Meridian Dream and Balance, DJ Daniel (of Moontribe) Visuals by Future Lighting and Dream Vision Extatica. Transmitting from New York: live performances by David Behrman, Cypher 7, DJ Terre Thaemlitz, DJ Tetavo. From their studio in London, new sounds of Future Sound of London. The latest CD from Future Sound of London includes Tele-collaborative Ambient Music from this event.

CAFE BARBIE, An Inter-Continental Salon: Part of the Inaugural Event series of the NEW ECI @ The Kitchen in New York. A live, international, 3-way color PictureTelé video link between ECI @ Santa Monica, the new ECI @ The Kitchen in New York and the ECI-Paris. This event coincides with the publication of "Forever Barbie: The Unauthorized Biography of a Real Doll" by M.G. Lord. Key interviewees from the book meet virtually for an evening of discussion, confrontation and humor. Guests include: Members of the "Barbie Liberation Front," and Raquel Welch in Santa Monica; Lauren Hutton live via PictureTelé from Denver. From New York, Betty Friedan, NY Times Fashion writer Holly Brubach and more. From Paris real life Barbie Cindy Jackson.

Three Cities tele-concert




THREE CITIES / MULTIMEDIA TELE-CONCERT: ECI-Santa Monica, ECI-New York, and ECI-Affiliate Studio X in Santa Fe. Featuring Morton Subotnick, David Rosenboom, Steina Vasulka with Leo Smith and J.B. Floyd. Produced in collaboration with the California Institute of the Arts (CalArts). Funding was provided to CalArts by AT&T. The three part evening began with a performance by Morton Subotnick, in New York, who played the Yamaha Disklavier in Santa Monica using finger controlled midi triggers. The second part of the evening was a bi-coastal tele-collaborative concert between David Rosenboom, Dean of the CalArts School of Music in Santa Monica, and pianist B. Floyd and trumpet player Leo Smith in New York City. In each city there were two Disklavier pianos, the one played by the local artist, the second one playing the notes activated by the pianist in the other city. The third part of the evening featured Seina Vasulka in Santa Fe playing a MIDI violin which controller laser videodisk players in both New York and Santa Monica. As she played her violin in Santa Fe she controlled and selected sections of the videodisk showing her playing the same piece 20 years earlier. Also during the course of the evening we took the Santa Monica and New York audiences through a tour of Netscape-based World Wide Web sites on the Internet and discussed the implications of performing artists disseminating their work and working together through this medium. This is an example of many years of collaboration between ECI, Mort Subotnik, David Rosenboom, Mark Coniligo, and CalArts. This collaboration continues with the hope of showcasing at least one "State-Of-The-Art Tele-collaborative Music Performance a year working with the leading avant-garde musicians of our time.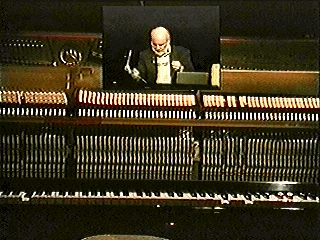 ECI AT THE MOTOROLA AND BELLCORE BOOTHS AT COMDEX. A Vegas-style 'Cyber Lounge Lizard' set up at the Bellcore booth. Visitors could make musical requests of musicians at ECI's in New York, Paris and Santa Monica who would play the midi controlled Disklavier, or perform via compressed ISDN video/audio.
"SENATOR POBOT" goes to Washington! Conceived and Produced by Daniel P. McVeigh, ECI East Coast Lab. This 5'5" tall wireless and completely mobile teleoperated robot was built by Toronto artist, and ECI-Affiliate Graham Smith. Senator PoBot, AKA Wilma, sported a video screen for a head which displayed the live telepresence video image of the face of whoever was navigating and speaking to people through the robot. Senator PoBot was navigated from remote sites via wireless ISDN technology. It could be remotely controlled by anyone at the Motorola booth in Las Vegas during Comdex '95, or almost anywhere providing they had H.320 videoconferencing capability and a telephone tone generator). The robot was walking up and down the sidewalk on Pennsylvania Avenue in front of the White House asking people on the street and in passing cars 'How do you get to the Information Superhighway?'
The notion was that Senator PoBot was not just a representative of the 'People's Voice' in the Nation's Capitol, but rather, could actually 'be the people' via Senator PoBot's telepresents capabilities. The people that teleoperated and spoke through Senator PoBot 'is the people' -- could representative government be obsolete? Long time ECI friend Eddie Becker coordinated the Senator's activities and managed her social calendar. Maybe Senator PoBot will actually run for office and go on a campaign tour visiting ECI sites around the country. Why not? Senator PoBot got the name because he really likes doing poetry about the Information Superhighway. Poets in New York City and other places used the Senator as a venue for expressing aspirations for an Information Superhighway, and fears of the Infomercial Highway, or what ever you call it.
GUILLERMO GOMEZ-PENA's CYBER-AZTEC T.V. FOR 2000 A.D. From Rensselaer Polytechnic Institute in Troy New York. CYBER-AZTEC T.V. joins with Ruben Martinez at ECI-Santa Monica via color motion PictureTel. This interaction was transmitted via satellite to cable television operators and satellite dish owners via Ku band. At the center of this production is Guillermo Gomez-Pena's character, El Naftazteca a simulated renegade high-tech Aztec who commandeers a commercial television signal and broadcasts a demonstration of his Chicano Virtual Reality time-machine.
ECI'S 6TH ANNUAL AROUND THE WORLD NEW YEAR'S EVE "TELEBRATION" Connections include: Paris, New York, Toronto, Moscow, Austin, Vancouver, Linz, Telluride, Greenland, Santa Fe and more. Electronic Cafe International's New Year's Eve "TELEBRATION" WWW Site on-line. CU-SeeMe, IRC chat, TelePoetry Moo, Image Gallery, sound files, cyber celebrities, and continuously updated images from the ECI video linkups from around the world. Audio bridges for audio and the international network of analog Panasonic/w video phones and compatibles. A digital bridge was established for the international compressed video network for the ECI's and others with PictureTel videoconferencing systems. Celebration events and performances include: Networked ambient music with the Electronic Cafe at The Kitchen in NYC; Bonnie Barnett performs from Santa Monica; The traditional waltz done with Linz, Austria; Video phone links with ECI affiliate at the Contemporary Art Center in Moscow, Russia. ISDN compressed video, CU-SeeMe, and IRC chat with the ECI @ Paris installation set up at the all night mega party put on by Actuel Magazine in Paris, and on and on. TelePerformances, kids events, and all other forms of cyber schtick flying around the planet just as in years past.