1990
---




EARTH DAY GLOBAL LINK CONNECTION: ECI established multi-media links with artists, environmentalists and others around the globe to meet, discuss, perform, and exchange TelePerformances using video phones, audio, fax, and E-mail. Performances included Rachel Rosenthal with Moscow, Rika Ohara with Berlin, and Omar Cabazes from Managua.

"PICTURES OVER THE RADIO?" During a live national NPR radio broadcast from the ECI in Santa Monica we broadcast the tones used by video phones when normally sending pictures over telephone lines allowing pictures to be received FM radio across the country. People who owned videophones were instructed to hold their telephone handset up to their radio speaker so that their Videophone would "hear the tones" and reproduce the picture. (Reception was confirmed by listeners sending the image back to ECI before the program ended.)

SANTA MONICA - SEOUL, KOREA: Internationally acclaimed Korean performance artist, Hye Sook connects with the Electronic Cafe in Seoul, Korea in a live TelePerformance. Artists in Korea include, sculptor, Gum Nuri; artist, Lee Bull; and publisher Ahn Sang-soo, Director of Electronic Cafe, Seoul.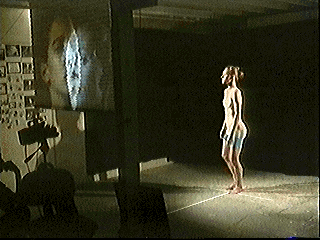 Dawn Stoppiellow at Santa Monica ECI


"MIDI-MAC MUSIC AND DANCE." Pioneering computer musician Mark Coniglio and Dancer Dawn Stoppiello, a member of the Bella Lewitsky dance troupe team up to create, "Tactile Diaries," an interactive vidphone dance performance with partners in New York City. Wearing a small telemetry device Dawn's movements controlled the music, lighting, and the transmission of her image.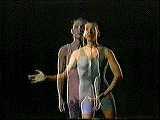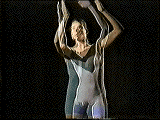 Composite image space dance performance
SECOND "ANNUAL AROUND-THE-WORLD NEW YEAR'S EVE TELEBRATION." Starting with Australia and continuing around the world visiting time zones as they entered the New Year. Connections include: Tokyo, Budapest, Berlin, Barcelona, Amsterdam, Vienna, Cayman Islands, Managua, NYC, Boston, Toronto, Cincinnati, Phoenix, Oakland, San Francisco, Vancouver, and more, ending with Maui at 2AM.
SERIES: TELE-POETRY Continues. ECI links poets around the country and across the world. This series allows LA poets to encounter the interests, cultural diversity, and aesthetic agendas of poets in other places, circumstances, and political contexts.
---
---


Pick a year:

1984-88 |1989 | 1990 | 1991 | 1992 | 1993 | 1994 | 1995 | 1996 | 1997 | 1998

or check out the Webcast Archives




---


ECI Home
---