1991
---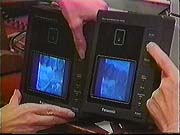 ART FUTURA '91, Barcelona Spain: Connection during the ECI presentation in the main hall. Featuring video phone link-up with Timothy Leary live from the Electronic Cafe International in Santa Monica.

RALPH ABRAHAM and TERRENCE McKENNA: World renown chaos mathematician Ralph Abraham and philosopher and authority on ritualistic botanicals Terrence McKenna engage in entertaining and provocative dialogue. McKenna was in New York and Abraham was at the Electronic Cafe International» in Santa Monica.

SALSA OPERA with the Electronic Cafe at Pipitos Cafe in Managua, Nicaragua. Musicians and singers at both sites interactively perform the Salsa Opera written by Nicaragua playwright, Alan Bolt.

KIDS-91: Kids-to-Kids day long connections between children meeting and talking about what concerns them using video phones, audio, fax, and E-mail. Connections included Norway, Canada, several sites through the U.S., Hawaii, and Japan. The kids ran the ECI facilities all day all by themselves. KIDS- 92 will follow next year.

GRAHAMSTOWN, SOUTH AFRICA- Videophone report: "NANA" = BEGINNINGS Los Angeles and South Africa Youth Directed Documentary For Peace. South African connection produced by Ben Caldwell, assoc. producer of NANA project.

GRAHAMSTOWN, SOUTH AFRICA/ ECI SANTA MONICA/ OTHER VISIONS: OAKLAND, CA. LIVE 3-Way Videophone Teleperformance. Music, poetry, and other types of "TelePerformances" exchanged between Grahamstown, Santa Monica, and Oakland . The audio-teleconferencing for this event was provided by CONNEX INTERNATIONAL.

SERIES: TELEPOETRY presented by LA poet, Merilene M. Murphy. Monthly poetry series connecting LA poets with poets around the country and world. Connections include ECI network venues in Northern California (OTHERVISIONS); Boston (STONE SOUP POETS); New York (NUYORICAN CAFE); Pheonix (METROPOPHOBOBIA); and in Paris (ECI-LA CITE at LA VILLETTE.)

INTERTAINMENT '91: 2 day exhibition for this industry conference for interactive entertainment featuring, telecommunications, computer and virtual reality. ECI is an off site location for the conference demonstrating virtual space, interactive vidphone performance and artist telecommunication collaborations including: AN ADJACENT DISCLOSURE: Composite Image /Virtual Space Performance. An original choreographed piece for Virtual Space. premieres for Intertainment '91. Choreographer-dancer, Dawn Stoppiello, a member of the Bella Lewitzky dance troupe and Pioneering computer composer/musician Mark Coniglio designer/inventor of MidiDancer team up with Kit Galloway and Sherrie Rabinowitz/ECI to create "ADJACENT DISCLOSURES," where remote dancers can see, hear and appear to touch each other as they dance together in "virtual space."

ECI kicks off the CRAFT AND FOLK ART MUSEUM's INTERNATIONAL FESTIVAL OF MASKS with connections around the country showing and receiving images of all kinds of masks. Print outs of the sent and received masks make a mosaic mural exhibition hung on the walls. Poets, Storytellers & Performers participated.

SERIES: THE 21ST CENTURY ODYSSEY conceived by performance artist Barbara T. Smith. Barbara traveled around the world with a portable ECI system (Laptop computer, email, fax software, video phone, audio conferencer) and links up to ECI with people and artists she meets along her journey. All the link-ups were 3-way including friend Roy Walford who was among the first eight people to spend two years living inside Biosphere 2 in Oracle, Arizona. The connections was facilitated and documented through ECI.

SERIES: BIOSPHERE 2, Arizona. ECI has the only informal public connection to the Biosphere 2 where 8 people will live for two years in a self sustaining environment. (The ECI-Biosphere 2 connection is part of the 21st Century Odyssey project). ECI became the "place" where the Biospherians virtually hung-out, outside of the context of Biosphere 2. This proved to be a real asset to the mental health of the Biospherians.

SECOND ANNUAL DIA DE LOS MUERTOS: Produced by Cynthia De Santis. Computer Graphics by Don Keys. Masks by Michael Perrick. Altar by Aida De Santis and Sal Doniguez. The Deadwalk is a floor installation by S.K.(eskay) Davis. Words by S.A. Griffin, Scott Wannenberg, Doug Knott, Raphael Alverado, Mona Jean and many more. Video phone connections with Metropophobia, Phoenix, AZ; and Gargoyle Mechanique, NYC.
| | |
| --- | --- |
| David Rosenbloom at ECI/Santa Monica | David as seen from videolink |
SERIES: CENTER FOR EXPERIMENTS IN ART, INFORMATION AND TECHNOLOGY (CEAIT) / California Institute of the Arts, Directed by international computer musician/composer, Mort Subutnick and Dean of the School of Music at Cal. Institute of the Arts, David Rosenboom. Since CEAITs inception in 1991, ECI and (CEAIT) have collaborated by interfacing the newest in electronic music technology with dance, theater and interactive audio/visual telecommunications connections with artists around the country and around the world. Series Performances include: Demonstration of 3-D sound simulation with audience listening stations and connections with NASA Ames Flight Human Factors Branch, Moffot Field, CA.; Interactive performance software with performance demonstrations by David Rosenboom and kids from the Open School; Performance by David Behrman one of the "grand progenitors of live electronic music. Focus on 'automated instruments' including a connection with Conlon Nancarrow in Mexico City. In Santa Monica, discussions and demonstrations with Tod Machover. Trimpin, David Rosenboom and Mort Subotnick.; New Music Across America. Interactive Electronic Music with Mark Trayles "Seven Gates ", Dean Jacobs and Leslie Lashinksy's "BodySynth" and live telelink connection with Studio for Electronic Instrumental Music in Amsterdam, Holland.

Morton Subotnick

PAULINE OLIVERAS: Multi-City Collaborative Tele-Music Event. Simultaneous five city celebration kicks off internationally renown artist Pauline Oliveros 40th year of composing. Olivereos, composer, performer, and humanitarian is an important pioneer in American Music. The five cities included Electronic Cafe International, Santa Monica, Ca.; Diverse Works in Houston, TX; The University of San Diego California; Experimental Intermedia Foundation in NYC' Toon Town in San Francisco, the Oliveros Foundation in Kingston, NY. Link-ups facilitated by ECI.

DAY WITHOUT ART: A live interactive satellite transmitted event produced by Visual AIDS, The Kitchen and Deep Dish TV for World AIDS Day. Electronic Cafe International was one of ten sites around the country receiving the live satellite broadcast. ECI was the only "live remote site" transmitting live audio and video. Tele-performance by Keith Antar Mason and Lynell Gardner to the N.Y.C. site to be inserted live into the multi-city satellite broadcast.

LITTLE CITY FOUNDATION, Chicago/LA Event Connection: Developmentally challenged individuals who have become accomplished Artists meet via videophone to share their art works, music, and to talk about their common experiences.

SERIES: TELE-POETRY Continues. ECI links poets around the country and across the world. This series allows LA poets to encounter the interests, cultural diversity, and aesthetic agendas of poets in other places, circumstances, and political contexts.

3RD ANNUAL AROUND-THE-WORLD NEW YEAR'S EVE TELEBRATION: Connecting with ECI connections around the world. This year we added more countries and the interaction was bridged so that people in sites around the world could toast each other at the same time. Connections included: Tokyo, Berlin, St Petersburg [formerly Leningrad] Paris, Budapest, Barcelona, Amsterdam, Vienna, Managua, New York,, Boston, Toronto, Cincinnati, Phoenix, Oakland, San Francisco, Vancouver, and more, ending with Maui at 2 AM.



---
---


Pick a year:

1984-88 |1989 | 1990 | 1991 | 1992 | 1993 | 1994 | 1995 | 1996 | 1997 | 1998

or check out the Webcast Archives




---


ECI Home
---