1993
---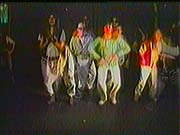 SERIES: VIRTUAL REALITY SIG Continues. Founded by ECI-Santa Monica and Dave Blackburn and sponsored in part by International Interactive Communications Society (IICS) of Los Angeles. Evening series includes demonstration and/or performance combined with videophone link to VR luminaries around the country and the world. Appearances and connections include: Dean Jacobs, Live performance, "The Decadent Suite - Sex, Drugs & Rock & Roll," featuring the unique BodySynth System input device. It melds music and dance so the dancers body becomes the musical instrument. Nick Imfeld, demos his "Power Glove" with a new PC musical interface. The audience will user the "glove" to manipulate sounds in a 3-D audio environment. Telecommunications link with the San Francisco VR group for a live interview with Chris Van Raalte, co-creator of the BodySynth.

VR SIG - Trying on the Power Glove

VR4U VIRTUAL REALITY SEMINAR AND WORKSHOP: with virtual appearances by Howard Rheingold, Author of the book, Virtual Reality ; Myron Krueger, author of, Artificial Reality ; Brenda Laurel author of, "Computer s As Theatrre," and more. In person at ECI include: Dr. Dave Warner talking about medical uses for VR; Mark Coniglio MIDI glove; Dr. Pete Tinker, and many more. VR immersive system with a head mounted display on site to try and experience along with the Domark VR Studio Amiga based system. GREG ROACH AND ASSOCIATES FROM HYPERBOLE STUDIOS, creators of the first interactive novel, "The Madness of Roland," show their work and work-in-progress and discuss the promise and pitfalls of this emerging new media. 12:00 Midnight, live telecommunications videophone, audio, and MIDI 4-way link with Graz, Austria; Vienna, Austria; Amsterdam, Holland and Santa Monica as part of the On-Line Symposium at Palais Attems in Graz.

"Imagine that a Fifties beat club went electronic, and you have some idea of a Telepoetics night at the Electronic Cafe International"

--Omni, January 1993

SERIES: (IICS), INTERNATIONAL INTERACTIVE COMMUNICATIONS SOCIETY: The IICS considers ECI its unofficial home. IICS regularly holds its seminars at ECI. Including such topics as: Hollywood Multimedia Interactive Television. Jack Schember, Editor Response TV Magazine Earl Greenberg, president, Transactional Media former president, Home Shopping Network; Bow Rodgers, VP Marketing, Interactive Network; Jerry Weinstock, Game Channel and co-founder of Game Technologies and a representative from TV Answer.; 3DO with Hal Josephson and R.J. Michaels LAW AND THE NEW MEDIA. "MINDS IN SPACE" Presentation by David Mitchell, founder of the Diaspar Virtual Reality Network-highlights the LTM-1 (Lunar Tele-operation Model One) project-- in which a miniature lunar-like environment is being constructed on which to test tele-operated models remotely-controlled by individuals located world-wide using their personal computers. Telecommunications connections with speakers from the Palo Verde Observatory in Phoenix, AZ and from Albuquerque, New Mexico Presenters included: Dr. Jerry Pournelle Noted Science Fiction Writer and Chairman of the Lunar Society; John Garvey, Special Projects Manager for McDonnell Douglas.

THE MOBILE-ECI AT THE VENICE BIENNALE, VENICE, ITALY: The MOBILE ECI at the Venice Biennale (July - October). The MOBILE-ECI which was launched in 1992 at Documenta9 in Kassel, Germany was showcased at the Vennice Biennial. The MOBILE-ECI, was a world-class showcase for ISDN-based multimedia art and collaborative performance. It linked with telecommunications and multimedia artists and others throughout the world including Europe, Japan, and the US.

NEUROTRASH KAFFE AT THE 51ST WORLD SCIENCE FICTION CONVENTION IN SAN FRANCISCO. This yearly celebration of technology without restraint or conscience features a convention recap, an interactive panel discussion with cyberpunk authors, a good/bad cyberpunk writing contest, a cyberpunk costume contest, and music. Connections via ATT color Picasso system.

A NEW ECI OPENS in DENMARK.. AARHUS FESTIVAL, AARHUS, DENMARK. After the festival ECI remains in Aarhus as a permanent facility. From Denmark, Ann Crosset and her company perform excerpts from the choreography, LA Street Song with video images sent live from Santa Monica over the PictureTel motion color video phone. THEATRESPORT is comedy improv performed as a sporting event with teams of actors, Olympic Style judges, scorekeepers, and the high spirited energy of athletic competition. THEATRESPORT leagues now run rampant throughout the U.S. and Canada and around the world including Denmark. The Danish Champions in THEATRESPORTS challenge the Los Angeles THEATRESPORTS team via the color motion video.

ECI's NETWORK MUSIC FESTIVAL begins with the HYBRID BAND from Aarhus, Denmark for the LA Museum Of Contemporary Art (MOCA's) CITY CIRCUS HOLLY ROLLOVER TRIBUTE TO JOHN CAGE. The HYBRID BAND is a trio of robots that performs music in different genres from classic to heavy metal. Each robot is controlled by one person situated either in Denmark or Santa Monica. You can see and hear the robots playing in Denmark via color motion video while you're controlling/playing it in Santa Monica.
Viacom set
ECI NETWORK MUSIC FESTIVAL. ECI-VIACOM in New York City. "PAN-DEMONIAM" Produced by Richard Zvonar and the PAN Network. MIDI music and electronic networked music collaborations/performances by Richard Zvonar, Bonnie Barnett, Ricard Bugg, and Simon Higgs in Santa Monica, Alex Noyes, Tom Hamillton, and Phil Niblock, from ECI/VIACOM in New York City, and participants on the PAN NETWORK (a packet-switched network populated by electronic musicians) plugging in from around the world.
ECI in TELLURIDE, COLORADO opens up as part of the TELLURIDE IDEAS FESTIVAL. This year the theme of the festival is on Telecommunications. Telluride a small town in the Rockies, sees itself as the first rural Tele-community. Home to John Nesbitt and the President of IBM, Telluride is also well known for its film festival and jazz festival, as well as some the most spectacular skiing in the country. Videophones were interfaced to cellular telephones for total mobility. Live remotes were carried on the local cable TV system from the mountain tops to main street shops. Links were also made with the ECI in Aarhus, Denmark, ECI-Santa Monica, and NYC. ECI is the active centerpiece of the festival. The Telluride Telecommunity remains a permanent affiliate of ECI.
KID-COM. ECI-Interactive Telecom Lab At Viacom in NYC, and ECI-Santa Monica. October is National Disabilities Awareness month. In The first Kid-Com at ECI Viacom, NY kids joined with kids with disabilities from the Computer Access Center in Santa Monica to collaborate and create in a two day project, open at both sites to guest audiences. Key elements included: Full motion color video connection over T-1 lines between Viacom and Santa Monica using the Compression Labs Gallery Teleconferencing equipment for Interactive games and improvisational theater between the kids. Collaborative music composition: Internationally know music composer, Mort Subotnick developed a music composition program, "Kids Canvas," that allows children and adults who can't read music or play an instrument to compose and play music. Kids at both locations were able to compose music, and then collaboratively work on a musical composition using the program over the modem. ECI integrated "Kids Canvas" with a "Headmaster" system to allow quadraplegics to not only compose music and play it for the first time, but to also collaboratively compose music with a kid in another city and to share the playback experience together.
ECI SHOWCASE @ VIACOM, New York City; Santa Monica, Ca.; London, England; Miami, Florida; Castro Valley, Ca; and Nickelodeon Studios, Orlando, Fla. ROOM TO ROOM. People entering rooms in one city and schmoozing with live, life-size images of people in the other cities.
DISKLAVIER JAZZ PIANO DUET Jazz pianists Michal Cain in New York and James Carney in Santa Monica, play electronic keyboards locally which activates the Yamaha Disklavier acoustic midi controlled piano in the other city .The musicians appeared together on the same screen in both locations.
VIP SPEAKERS: From New York, Andy Zucker, Executive Director of The Academy Of Interactive Arts And Sciences; Introducing ECI from Santa Monica, Dr. Brenda Laurel, author, Computers As Theater; From Marin County California, Howard Rheingold, author, Virtual Reality.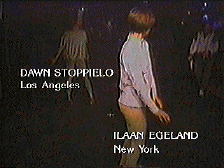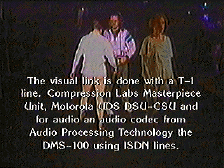 COMPOSITE IMAGE SPACE MIDI-DANCE PERFORMANCE. Composite Image Space performance choreographed entirely over the PictureTel System by Dawn Stoppiello and Mark Coniglio in Santa Monica and Illan in New York. Final performance performed live in Virtual Space via the CLI Compressed Motion Video System connected between New York and Santa Monica by a T-1 line. Performance included MIDI for MidiDancer music, Disklavier, and stage lighting controls. On screen in both NY & LA, Dawn (LA), Illan (NY) appear to be dancing in the same space. Midi Dancer suit worn by Dawn in LA controls the music in NY. Music composition and programming, Mark Coniglio.
Graham and Todd meet in cyberspace
Graham Nash in LA plays with violinist Todd Reynolds in NY. They meet for first time in composite image space and play together one of Graham's new songs. Audio for Nash and all vocal musicians is processed through a ATP Audio Codec using three ISDN lines for CD quality sound.
TELEPOETRY From NY, Bob Holman performing a poem rap about ECI with Merilene M. Murphy in Santa Monica. together live on screen in both NY & LA.
Thomas Dolby: Performance of his wireless One-man Band, synthesizer/sequencer, voice. Dolby moves freely throughout the cafe while transmitting CD quality audio and T1 quality video.
NEW ECI @ RIO DE JANEIRO, BRAZIL. Leads off with a five day festival inaugurating the ECI at the CCBB'S CAFE, Rio de Janeiro, under the direction of Marcello Dantas, Director, Magneto Centreo de Midia . Events included children's music connections between Santa Monica and Rio; music connections between NY and Rio and a meeting of filmmakers across borders. ECI @ C.I.R.M (Centre International de Researche de Musicale,) NICE, France. Live from Nice, pianistcomposer, Philip Glass plays the MIDI Disklavier piano in Santa Monica, live. Accompanying C.I.R.M Director, Michelle Rudolfi's concert from Nice of music inspired by his recent trip to the Rain Forest, perfume vials were sent to Santa Monica and released via MIDI connections over phone lines at precise moments during the composition to create the sensual scented ambiance of the Rain Forest. Terry Riley performed in Santa Monica and played a Disklavier piano duet with Philip Glass in Nice.
Terry Riley, as seen from Nice via videophone
JERUSALEM THEATER, JERUSALEM, ISRAEL. ECI @ JERUSALEM inaugurates the connections with a concert by Steve Hornstein in Jerusalem and back and forth audience interactions between people at both sites. Giant screen video phone projection and audience interaction fill the Jerusalem Theater.
ECI'S 5TH ANNUAL AROUND THE WORLD NEW YEAR'S EVE "TELEBRATION" Around the world connections included live feed from Times Square NY at 1515 Broadway, via color PictureTel. Connections with Rio de Janereio, Brazil; Jerusalem, Israel; Paris, France; Toronto and Vancouver, Canada; New York City; San Francisco; and Japan. In Santa Monica a group of Ecuadorian musicians played native instruments. Music from Vancouver and Jerusalem, and poetry from NY and Toronto.
---
---


Pick a year:

1984-88 |1989 | 1990 | 1991 | 1992 | 1993 | 1994 | 1995 | 1996 | 1997 | 1998

or check out the Webcast Archives




---


ECI Home
---